Sherri Hill's White Gowns for Summer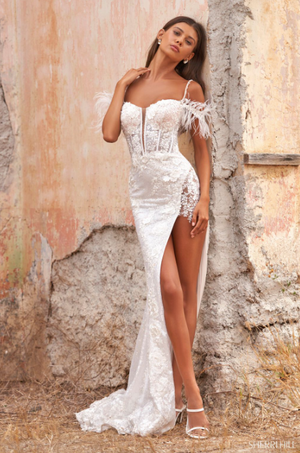 Hey girl, hey!! It's officially the last day of May and we are super excited to welcome June with open arms. Sherri Hill's spring 2022 collection still has us swooning and we want to bring a whole new element today with their fabulous white looks. Summer white downs are timeless and ultimately stunning! Whether you are preparing to strut across a pageant stage, a debutante ball, or are a fabulous bride to be, Sherri Hill has so many gorgeous white gowns to make you stand out and shine bright at your event. 
First up is THE gown that encompasses every trend of the season. It features a one shoulder neckline, a single long sleeve, feather details, beadwork and a sleek fit. This gown is crafted from scuba material so it is thick, lays so smooth and will really accent your figure. The entire gown is adorned with hot stones for lots of shimmer. The one shoulder sleeve is adorned with feather details on the shoulder adding such a unique spice. 
Sherri Hill's style 54839 is perfect for a bride to be! This corset bodice gown features lots of lace, feather details on the cap sleeves and a high asymmetrical slit. The entire gown is covered in intricate, high end lace that is so captivating! The back uses lace up details to ensure that the fit is absolutely on point! 
Sherri Hill's style 54871 is ready to slay a pageant stage! This sleek gown features a plunging neckline, thick shoulder straps, pearl details, etc. The sleek gown is accompanied by a fabulous sheer fabric overskirt that adds the drama and makes for an epic entrance into any room. You can rock this look with or without the overskirt, so you really have two looks in one!