Trend Setting Summer Nails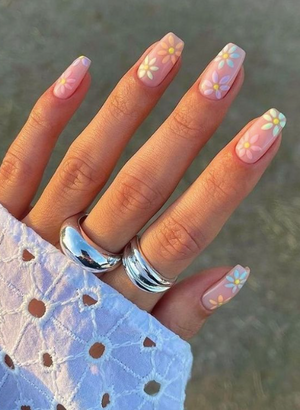 Summer fun is almost in full swing and we are so excited for swimsuits, vacays, and of course, fashion! With bright hues, summer outfits and all the latest trends, you have to have the perfect summer time nails! Inspired by the hottest neon fashion trends, we rounded up several fabulous nail art inspiration for you to try out next time you are at the salon. 
First things first, complementing neon hues! We are swooning over these hot pink and orange swirls. The light pink base really makes the white, hot pink and orange swirls pop. These two hues go together so well, but you can also switch them out if you want to try other mixes! Just about any bright hue can go so perfectly with neon pink. Try neon green, maybe mix in some lilac or even yellow. The possibilities are endless! 
Florals are all the rage right now with summer dresses, tops and nail art! Daisies are so cute on nails. The designs add such a fun flare, while also giving your nails a pop of color. We love that you can incorporate several colors all at once. This example picture shows off a simple pink/nude undertone giving way for pastel daisies to be the eye catching element! Using lots of pastels makes certain that your nails will not be clashing with any of your fabulous summer 'fits! 
This season's trends are all about big, loud colors that are so bold and fun. Your outfits can bring in neon and patterns all day, and so can your nails! Mix it up and try to incorporate several designs, colors and elements all into one nail look to really elevate your look!