Thanksgiving Trends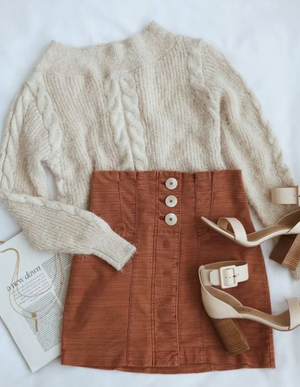 It's turkey szn, y'all! And we're here to help make sure that you are the best dressed at every meal tomorrow. It's an essential. Is it going to be the chunky sweater or cardigan, girl? We have to dive right into this one because there's turkey waiting for you!!
Let's start with the chunky sweater. You can pair it with anything. A skirt, black high waisted jeans, bell bottoms, those thigh high boots you've been dying to wear… the options are endless!! And you have sooo many style options with a chunky knit sweater. Oversized sleeves, a deep fall-approved hue, print- so many options and so little time!!
But wait, there's more! The trending sherpa cardigans have to be the most comfortable thing we've ever worn. You can pair them with anything and they honestly feel like you're wearing a big cozy blanket, so they're perfect for that food coma nap. 
Now it's time to accessorize!! It's beanie season, aka our favorite season. Throw on a neutral pom beanie for a super cute look that will keep you from getting chilly. And don't forget about the mani!! Now is the time to rock gorgeous fall neutrals on your fingers. Finish off your Thanksgiving look with a gorgeous color on your nails that is sure to get compliments when you're reaching across the table for a roll!
Now go get in on that pumpkin pie, girl! Happy Thanksgiving!!