Trending Hair Accessories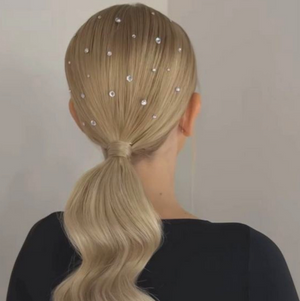 As the seasons change, we typically see some trends fade out while others hold on strong for the next few months. We have seen so many hair trends take off thus far in 2022, and some are sticking it out and going with us into Fall. Some new hair accessories have also gained momentum in recent months and we are obsessed! Let us know which ones you will be trying out! 
One trend we are so excited to keep around is wearing headbands! Headbands made their epic comeback last winter and have continued to get better and better with time. There are SO many different styles when it comes to headbands, so many that you could have a different one for every day of the week. There are also several brands that make themed headbands, so you can have holiday themed ones as well! One style we particularly love for Fall is velvet! A velvet headband is just so chic, you will be giving all of the Blair Waldorf vibes! 
Hair embellishments like pearls, subtle rhinestones, or beads has been a huge new trend for special occasion hairstyles recently. Speckling your hair with embellishments like these is so unique and fun! We love the pearl styles in particular because they add a dressy feel that is perfect for formal occasions. Adding rhinestones is also gorgeous, so just go with whichever compliments your dress more! 
The claw clip is still killing the hair game as of late, so it's the perfect time to put away your summer daisy clips and break out your fall colored ones! Having your clip compliment your outfit is just icing on the cake, so be sure to stock up on Fall-inspired claw clips for your Autumn wardrobe!!