Yummy Treat Ideas for Christmas!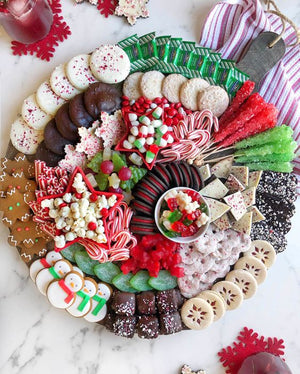 Ladies! Christmas is in four days and we could not be more excited! We are so looking forward to spending time with family and friends. If you don't know what treats to bring to the upcoming Christmas parties, look no further! Today we are going to show some of our favorite holiday treats. Let's get this tasty blog started!
Up first is reindeer rice krispy treats! This treat is so cute and so yummy! All you do is make rice krispy treats per usually then pack them into a round pan. Now just cut them like you would a pie and add pretzels for the antlers, candy eyes, and an m&m for the nose! This treat is sure to be a hit at a Christmas party.
Up next are snowman cupcakes! This treat is so simple to make! All you have to do is bake whatever flavor cupcakes you want, our favorite is chocolate! Then you just ice them with white icing. Now is the fun part, add a marshmallow to the top and draw a face on it! You can use icing for the buttons and arms or you can use m&ms and pretzels! You can customize this treat any way you want!
Lastly is the classic chocolate covered pretzel! These treats are always so popular! You can either do the normal pretzels or you can do the pretzel rods! We love the pretzel rods because they are so yummy and look so cute when they are all in a jar on display! These treats are entirely up to you, just dip pretzels in your choice of chocolate, then you are free to decorate however you like! Our personal favorite is to add sprinkles or more chocolate drizzle. We hope you try out some of our favorite Christmas treats!