Christmas Vibes with Jovani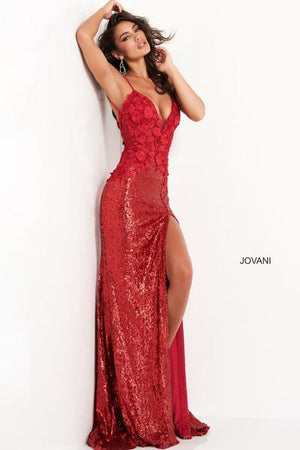 Merry Christmas Eve, ladies! In honor of Christmas being tomorrow, we have decided to pick out some of our favorite red and green dresses from Jovani. To us, nothing says Christmas like red and green! There are so many beautiful dresses from Jovani, we don't know how we will choose! Let's get this blog started! 
Up first is the Jovani style 04091. This dress is so fun! It has a plunging neckline and illusion sides on the bodice. The entire bodice is beaded, which is so stunning with the simplicity of the skirt. The skirt also has a slit to add some sass. We love the skirt because it is so flowy! If red isn't for you, this dress comes in the colors off-white and royal.
Up next is the Jovani style 64807. We are in love with this dress! It has a high neckline that really compliments the fit of this dress. Our favorite part of this dress is the sequin design, it is a fun twist on the classic fully sequined dress. To top it all off, it has a gorgeous open back! If green isn't your color, it also comes in black, rose gold, and white. 
Last but not least is the Jovani style 06426. This dress has it all! It has a deep cut neckline and gorgeous three dimensional floral detailing on the bodice. This pairs so well with the fully sequined skirt. It also has a slit and a strappy back to put this dress over the top. This dress comes in the colors red, light blue, and cream. If you are looking for the perfect dress, Jovani is the designer for you! Hope all you ladies have a Merry Christmas!