Bright Looks from Colors Dress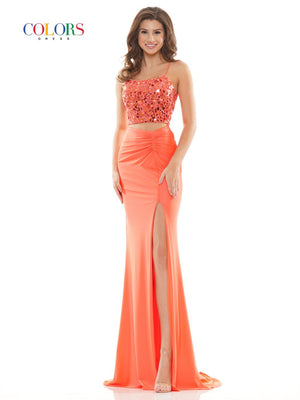 We are back again ladies! Brightly colored dresses have been all the craze this year, we can't get enough! Colors Dress spring 2022 did not disappoint. We are going to show some of our favorites from this collection. With that being said, let's get this blog started!
Up first is the Colors Dress style 2663. We are in love with this dress! It has a sweetheart neckline with feathers! This is by far our favorite part of this dress, we think this detail takes this dress to the next level. It has a slight mermaid style with a fun slit. This dress comes in the colors hot pink, light blue, red, royal, and white.
Next is the Colors Dress style 2696. This dress has a plunging neckline with a gorgeous rhinestone detailing. We love the pattern that the rhinestones are in. This dress is a jersey material, which is sooo comfortable. This dress comes in the colors hot pink, red, and turquoise. 
Lastly is the Colors Dress style 2688. This dress has it all! It is a two piece style with broken glass detailing on the bodice. It also has a fun strappy back. The skirt of this dress is so simple but so stunning paired with the busy bodice. It has some fun ruching and a slit to put this dress over the top. This dress comes in the colors blush, lemon, orange, and ultra violet. If you want to shine bright at prom, Colors Dress has you covered!