Fabulous Neutrals from Colette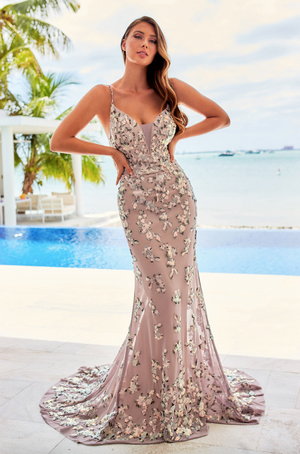 Colette's current 2022 collection is packed full of gorgeous pastels, golden gowns, floral numbers, and lots of stunning neutrals. We have chatted about brighter options and tons of pastels from Colette, but we have to put some spotlight on their beautiful neutral styles! Neutrals are perfect for any season and have been very popular in the fashion world as of late. Celebs everywhere are living for a monochromatic look, often in a neutral! So, let's dive in and chat about channeling the neutral trend into your next formal event. 
Colette's style CL12208 is a platinum stunner that was made to turn heads. This gown features a mix between a v and sweetheart neckline with super thin shoulder straps. The bodice is very structured, and is adorned entirely with fabulous embroidery. The skirt is crafted from layers of tulle, and is a fabulous ball gown shape. The skirt is also adorned with embroidered details that cascade down the dress. This platinum silver color is stunning and will work for any season! 
Style CL12236 by Colette is next level! This is one of our most favorite looks from Colette's current line, and we just had to show it off! This gown is simple in fit, but absolutely stunning with embellishments from head to toe. The bodice features a plunging neckline, thin  beaded straps and a sleek straight, fit and flare silhouette. The base color for this gown is taupe, a gorgeous neutral tone that is super unique when it comes to formal wear. The embellishments really set this look over the edge. It is entirely adorned with beaded floral clusters, bringing in shades of light pink, blue and green. We are truly obsessed with this look. 
Last but not least is a darker number, that shimmers like a disco ball! It is Colette's style CL12263. This gown is fully adorned with novelty sequins and is made from stretch fabric for a fabulous fit and flare shape. It features a sweetheart neckline with thin shoulder straps, a sleek fit and high slit over the left leg. This slit adds the perfect spice, as well as allows you to show off your fabulous shoes you choose to pair with it! The dark gunmetal / black color pattern is just stunning!