Pretty in Pink from Jasz Couture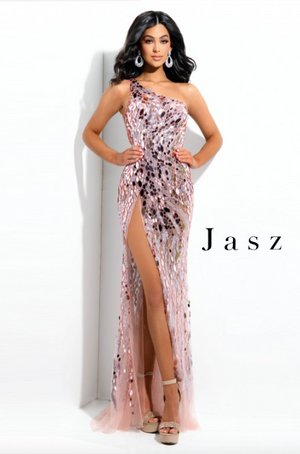 It's time to chat about all things pink! Jasz Couture is best known for their red hot numbers and classic neutral tones with lots of beadwork, but they have tons of colorful styles, too! While glancing through Jasz Couture's 2022 collection, their stunning pink styles stopped us in our tracks! There is no shortage of embellishments on these numbers, you are going to be blown away! 
Jasz Couture's style 7331 is as trend setting as they come! This gown features a v-neck bodice with strappy details, side cut outs, an open back and a high slit. The skirt is actually sheer fabric, adorned with tons of beading, and the bodice is accompanied by a body suit. The whole look is beaded from top to bottom, bringing in lots of silver shimmer and pale pink designs. A look like this is truly one of a kind! 
Style 7302 by Jasz Couture is the definition of fabulous. This trendy one shoulder gown has a sleek fit with a high slit over the right leg. The entire gown is adorned with mirrored details to add an eye-catching shine to this gorgeous pink number. The glass pieces fade as you reach the floor for easier movement. Jasz Couture really set this mirror details trend over the edge last season and it just keeps getting better! 
Last but not least is Jasz Couture's style 7309. This gown gives off Jasz Couture's signature vibes. Entirely adorned with iridescent sequins and beadwork, this gown shimmers to perfection. It features a v-neckline, sleek fit, open back, and sweep train. The light pink undertones are brought out with the beadwork, and the beadwork gives off a gorgeous iridescent shimmer.